Smart Snacks and Competitive Foods at Thompson School District
What is Smart Snacks?
In 2015, the United States Department of Agriculture (USDA) set guidelines for all foods sold during the school day to all schools to offer healthier snack foods to children instead of junk food! This guideline is known as 'Smart Snacks in Schools'. This program applies to any food sold in competition with the reimbursable meals provided by the National School Lunch and Breakfast Programs. Smart Snacks in Schools allows students across the country to be offered healthier school snacks and lunches with more fruits, vegetables and whole grains! This helps to ensure that kids are only offered tasty and nutritious foods during the school day!
The Smart Snacks in Schools is utilized within the Thompson School District along with the Colorado Competitive Foods rules. See the information below to help plan for upcoming events on your campus!
What qualifies as a Smart Snack?
Food items qualify as a Smart Snack if they are a whole grain or the 1st ingredient is listed as a fruit, vegetable, dairy, protein food and they must meet the following nutrition standards: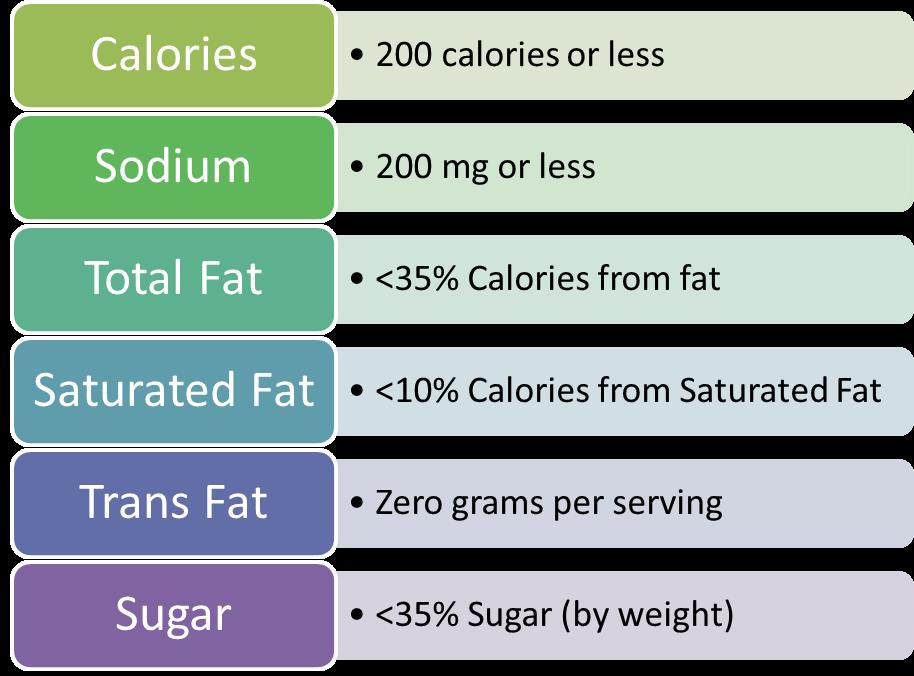 How can I tell if my snack meets the Smart Snack Standards?
See if your snack is listed in the Products section of the Alliance for a Healthier Generation's Smart Food Planner! These products meet the Smart Snack Standard!
You can also use the Alliance for a Healthier Generation's Smart Snack Calculator to determine if your snack meets the Smart Snack Standard!
What is a Competitive Food?
Competitive Foods: All food and beverages, other than meals reimbursed under the national School Lunch and Breakfast programs, on the school campus at any time during the school day.
School day- The period from midnight before to 30 minutes after the end of the official school day.
Extended school day: Time students are at school after regular school day, including but not limited to, participation in extracurricular activities or child care programs.
School campus: all areas of property under the jurisdiction of school that are accessible to students during the school day.
When can competitive foods be sold in schools?
Colorado requires that no food items are sold to students in competition with the National School Lunch or Breakfast Program. Fundraiser food or beverages sold during school may not be sold during, 30 minutes before or 30 minutes after each scheduled meal service and they must meet Smart Snacks in Schools food and nutrition standards.
Where do Smart Snacks and Competitive Food Rules apply?
Foods sold in the school cafeteria that are not part of the reimbursable school meal as well as vending machines, school stores, bake sales and other food-based fundraisers.
What about fundraisers?
All food-based fundraisers at Thompson School District will be subject to the new nutrition standards established by the Smart Snacks regulation. Please note the following as you plan fundraisers to be conducted during the school year.
There is no limit to the number of fundraisers conducted that are not food-based (school supplies, spirit gear, etc)

There is no limit to the number of fundraisers that are food-based but these fundraisers meet the Smart Snack nutrition standards and must not be sold during, 30 minutes before or after school meal periods.

The Colorado Department of Education's Office of School Nutrition has established that each school is allowed 3 food-based fundraisers per school year may be exempt from the 'Smart Snacks' nutrition standards.

These rules do not apply to foods sold outside of the school day or food fundraisers not meant to be consumed at school.
Questions?
If you have questions about these new rules or to learn if a product meets the nutrition standards, please contact 970-613-5146.