Lettuce" Bring Salad Bars to Schools!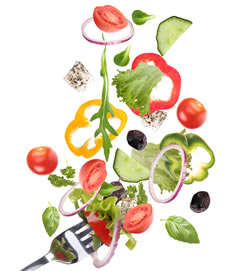 We all know that the more children are exposed to fresh fruits and vegetables, the more likely they are to try them. Salad bars offer multiple choices of fresh fruits and vegetables, giving them the chance to try something new, along with their favorites. We have had lots of success at the few schools that already have a salad bar in place.
Unfortunately we don't have salad bars at all schools....YET! If you would like to see a salad bar at your school, consider helping us with your donation.
"Lettuce Bring Salad Bars to Schools"
http://www.saladbars2schools.org/grant/thompson-r2-j/
School salad bars are an effective strategy to increase children's fruit and vegetable consumption, promote healthier eating habits and meet the healthy nutrition standards for school lunch.
There are many benefits of salad bars in schools, and they extend beyond the healthy foods consumed during the breakfast or lunch hour. Increased daily access to a variety of fruits and vegetables provides a personal experience about choices that can shape behavior far beyond the school lunch line. Children learn to make decisions that carry over outside of school, providing a platform for a lifetime of healthy snack and meal choices.